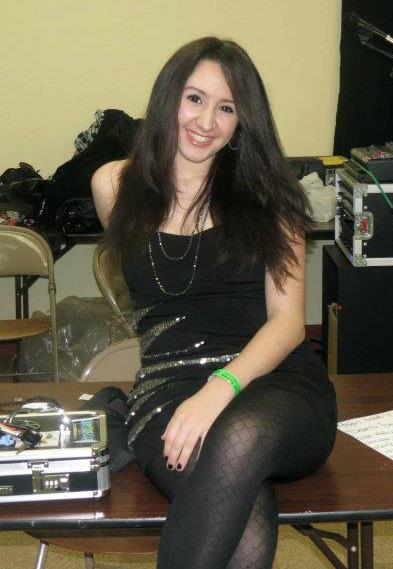 Audio Interviews with Mad Max
To Obtain an Mp3 copy of the interviews, contact Mad Max

Broadcasting On Demand

Show Playlist (Doc) or (TXT)
About Lenore:
Lenore was born in Staten Island and at six she moved to New Jersey, where she still lives with her parents and two brothers. Lenore is proud to say she is blessed and supported by her family who has set the foundation for which she stands and who encourage her to go after her goals and her dreams. Since Lenore was very young her competitive personality, desire to succeed and wanting to help others have contributed to choices in her life. She has proven over and over again that when you put your heart into something great things can happen.
At four years of age, her goals were to beat her father at chess and to play the violin. She eventually did beat her father at chess but, gave up studying the violin, in exchange for the piano. She took to the piano with a passion that still continues today.
While in middle school she pursued acting getting involved in school shows and studying in NYC. Though she was starting out late she took to it with a drive that helped her land a few featured extra roles on TV. After attending improv and speaking classes she knew then that she was definitely a people person. While in the 7th grade she studied abroad in the small town of Calabria, Italy for one week and received a certificate for helping students learn about America and the language... She alsobecame her 8th grade class representative working closely with her principal to make her graduating class experience one for all to remember.
Lenore's High School years have proven to be even more exciting for her. As a sophomore she became involved in DECA and was one of a few sophomores in NJ to become state finalist in the DECA competition. When she was a junior her Principal gave her the job of recruiting more students to get involved in this leadership and entrepreneurial program. She set out and achieved that goal telling her peers how important it is to take chances and think like leaders. The summer before her junior year she found her calling in Broadcasting, getting an internship at Goom Radio. What was to be a music filing internship led to the most gratifying and wonderful experiencer esearching news, writing gossip and being a part time on-air host for Zach Sang, the host of Zang Radio.
After Lenore's internship she set out to produce her own internet radio show "Teen Groove On The Move". This hit show set the stage for Lenore, to interview compelling guests from all walks of life including Award winning Actor's and Entertainer's, Songwriter's, Famous Athlete's, Grammy Artists, Author's, even inspiring teens. Lenore's talent goes beyond that too as she is also the writer and film editor for her show too. After a while her mentor and friend Milliea McKinney, of Conscious Music Entertainment, suggested Lenore write a magazine with the same name as her show. With the gusto needed Lenore set out to write a magazine different from others that would hopefully inspire her peers. Today the first issue can be seen online or in print and the next issue is coming out in April. With great reviews and peers interested in contributing to the publication Lenore oresees the magazine as being a staple for the youth of today....

Lenore's Links